This complex project, involving constructing a new hotel over the existing Tower Hill Station involved nearly all aspects of scaffolding in one project.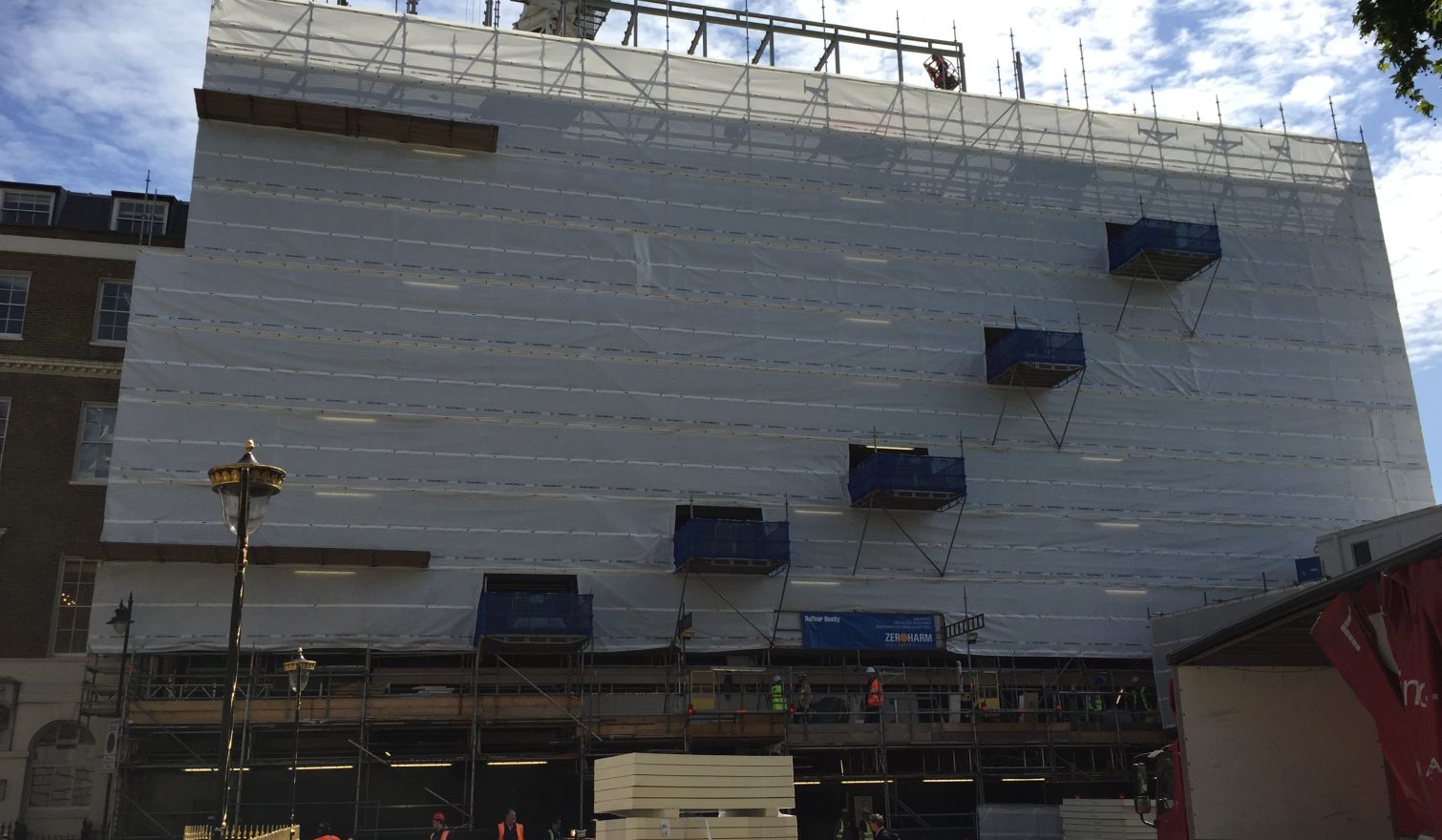 The first part of the project was to design a pavement gantry surrounding three sides of the site with strict constraints imposed by London Underground. With all station entrances, CCTV and emergency signs being needed to keep clear, pedestrian traffic was assessed and gantry support towers were strategically placed to prevent congestion. The gantry beam level had to be at a set height below the future canopy to facilitate its construction; this resulted in headroom issues for pedestrian and the beam depth was limited to 450mm. Steel beam sections were placed at ground level to spread the imposed load over existing steel beams below ground level.
A 22m high Layher Allround system access scaffold was designed, supported from the gantry beams, to three sides of the new structure. The entire access scaffold was designed to be without any ledger bracing to maximize access on working platforms.
One side of the pavement gantry consisted of a cabin support gantry, supporting six site cabins (3 double stacked), which spanned 11m over one of the station entrances. In order to span such a large distance, and to maintain sufficient pedestrian headroom and avoid all signage and CCTV, twin steel beam sections were designed. The cabin support gantry consisted of four towers, supporting steelwork and maintaining pedestrian access in three directions.
Adjacent to the cabins, also on the cabin support gantry was a 30m high 5.0 kN/m2 hoist run off scaffold made up of a series of beams to transport people and material at every floor level.
The fourth side of the new structure, adjacent to neighbouring properties, required suspended access from the roof to facilitate work to the façade. A 7.5m high suspended access scaffold was designed with cantilevered beams at roof level.
Before the new hotel structure can be built, repair work is required to the existing station roof. A duo pitch temporary roof has been designed spanning approximately 14m over the station to provide temporary cover for roof repairs. Construction phasing has been the most important factor when considering design solution for this project.