The demolition of the buildings forming the St. James's Market project started in autumn 2013. The three buildings can be seen in the first image – with Regent Street in the foreground.
The façade of the main building along Regent Street, returning along Carlton Street to the south and Jermyn Street to the north, has been retained. Keltbray installed the façade retention scheme, and the scaffold within and around it has been installed by Lyndon Scaffolding and designed by 48.3 in its entirety.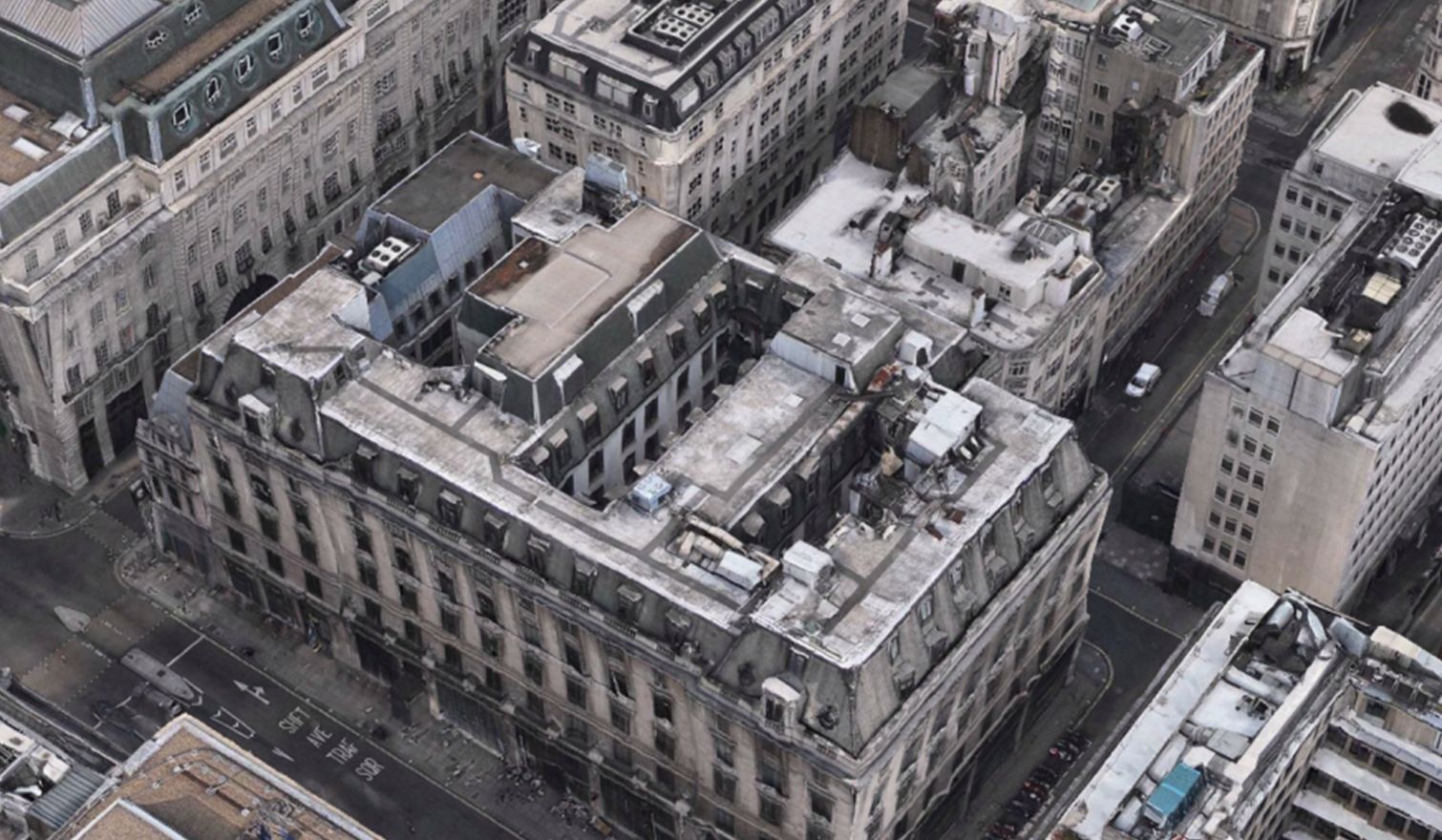 The rear two buildings on image one have been demolished completely as part of the project.
The majority of the scaffold to date has been to protect from or facilitate, the demolition of the buildings, in whole or in part. The rear two buildings with elevations on Haymarket were fully scaffolded. Pavement gantries, bridging for access routes and hoarding frames where installed. All of which were fully clad with multiple protection fans. The sections along St. Albans Street were all supported from first floor cantilever truss-out scaffolds to maintain access at ground level for plant and materials. Demolition of these buildings is now almost complete (at the time of writing).
The scaffolding in the area of the façade retention was particularly challenging. 48.3 used the BIM model created by Wentworth House and survey drawings to design a scaffolding scheme that integrated within the structural steelwork. The scaffold included a full-length pavement gantry providing 'Class C' protection to the public along the pavement. The scaffold to access the cabins and the high-level areas of the façade is suspended from the steelwork of the retention scheme, cantilevering out and around the site cabins to form a protection and sheeting frame with internal walkways.

High-level access around the ornate stonework and to facilitate the safe demolition of the mansard roof was provided by a complex arrangement of cantilever beams and internal support scaffolds (images 3, 5 and 14). The beams cantilevering through the building where generally installed at window locations, with spine beams running along the length of the scaffold externally. However in some areas, pockets in the structure were created to install cantilever beams. As the building was being demolished the integrity of the supporting structure would be reduced whilst the scaffold was in place. The uplift load at the rear of the cantilever beams was transposed through the scaffold bracing and beam work to specific concrete beam locations on the floor levels below. Openings in the floor slabs were created and specific fixings to the concrete beams detailed within the design.
The proactive and 'can-do' attitude of the entire project team at Lyndon Scaffolding made this project a pleasure to complete.