Temporary Roof Encapsulation, Full Multi-level Access Scaffold, Loading Bays and Staircase to facilitate the internal, external and roof repair and renovation works.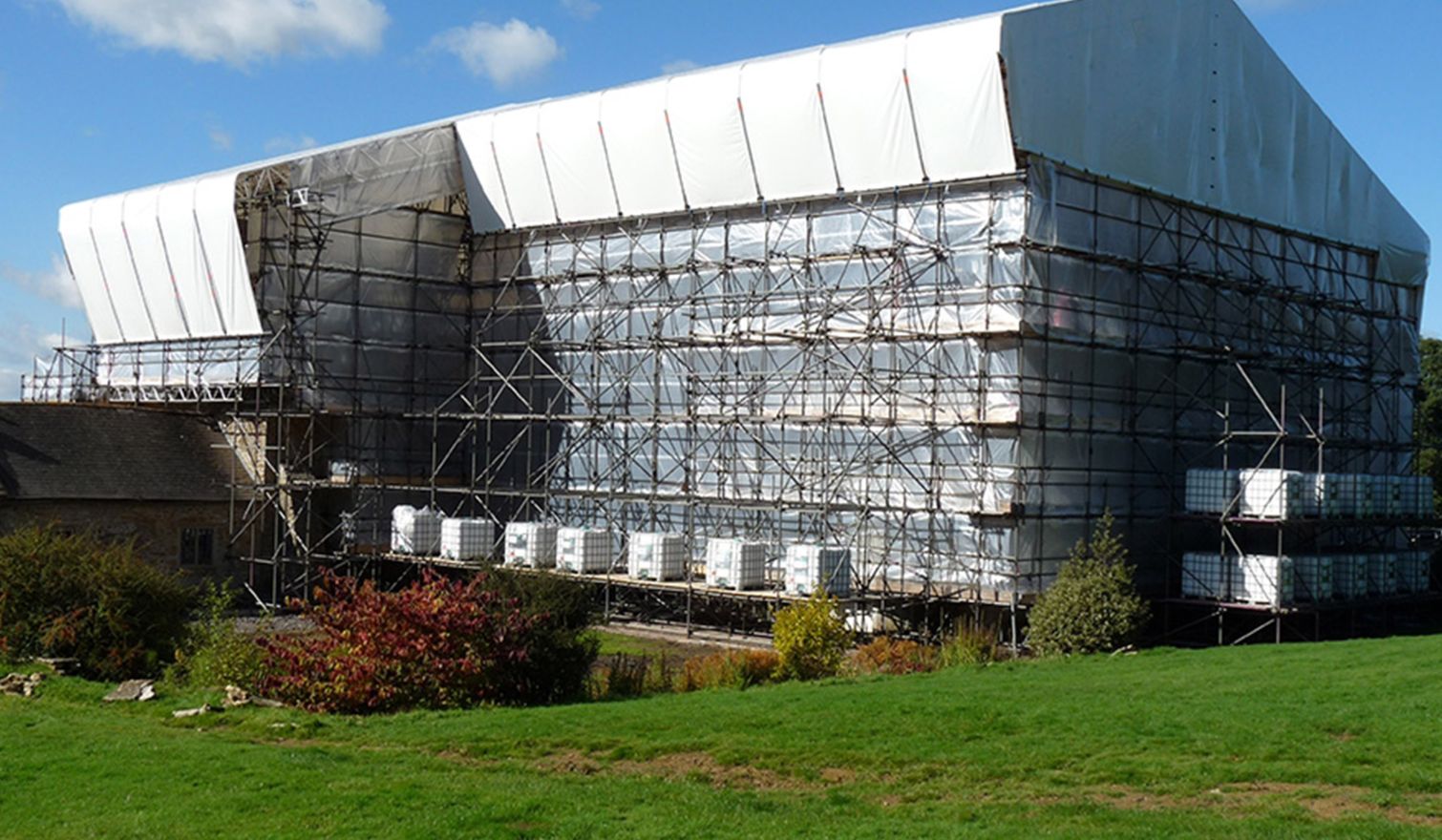 The ground based supporting scaffold was erected using traditional tube and fitting materials with long multi-beam bridging sections over adjoining buildings. Access platforms were provided from ground to eave level for stone repair, window replacement and building work. The scaffold then extended upwards to support 24m and 32m span temporary roof structures.
This design posed some significant challenges:
Stability: The scaffold is entirely freestanding with sheeted gables extending to nearly 20m in height. Wind loads were significant, placing high importance on the effective use of kentledge and bracing to maintain rigidity and overall stability.
Ground Conditions: The soft waterlogged ground conditions provided little bearing resistance (less than 10kN/sq.m in places) that was insufficient for scaffold standards, even with large timber sleeper sole pads installed. Therefore the top levels of soft ground were excavated and replaced with gravel fill and then concrete strip foundations cast on top. The RC slab was typically 1.20m wide and 0.20m deep with A393 mesh reinforcement.
Roof Sheeting: The first challenge for Modus Access was pulling a 37m long Keder sheet through the roof truss – not an easy task, but made slightly easier by the provision of temporary cantilever access platforms at roof eave level. The second challenge was the fixing of two adjacent Keder Roof trusses of different lengths at the same level. An innovative Roof Truss fixing arrangement and sheeting solution was developed by Ben Beaumont (48.3) and Terry Sennett (Modus Access) to maintain complete weather protection, using standard Layher components and without the need for any modification or special parts. The solution was totally unique, previous solutions required expensive roof trusses to be cut, and subsequently scrapped afterwards.
If you have a temporary roof scenario whereby the roof is formed of multiple sections of different lengths, please get in touch - we will be happy to share this fantastic solution!