Unlike most stadium builds, White Hart Lane remained open and fully functional for the first year of the project, despite part of the stadium being demolished and the new stadium being built in close proximity. These circumstances presented problems surrounding the safety of the public when entering and exiting the ground on match days.
Several staircases, lifts and emergency escape routes had been demolished to both the North and East stands rendering them non-compliant to building regulations and unusable. A Layher Allround 750 Public Staircase with a tube and fitting infill was designed to service each of the stands to maintain maximum use throughout the season.

Movement simulations highlighted that fan access routes were required through the site before and after each game. Ground conditions were poor, slab levels varied, and voids existed. A series of fan access walkways and crowd loaded hoarding frames were designed to guide fans through the site and ensure their safety.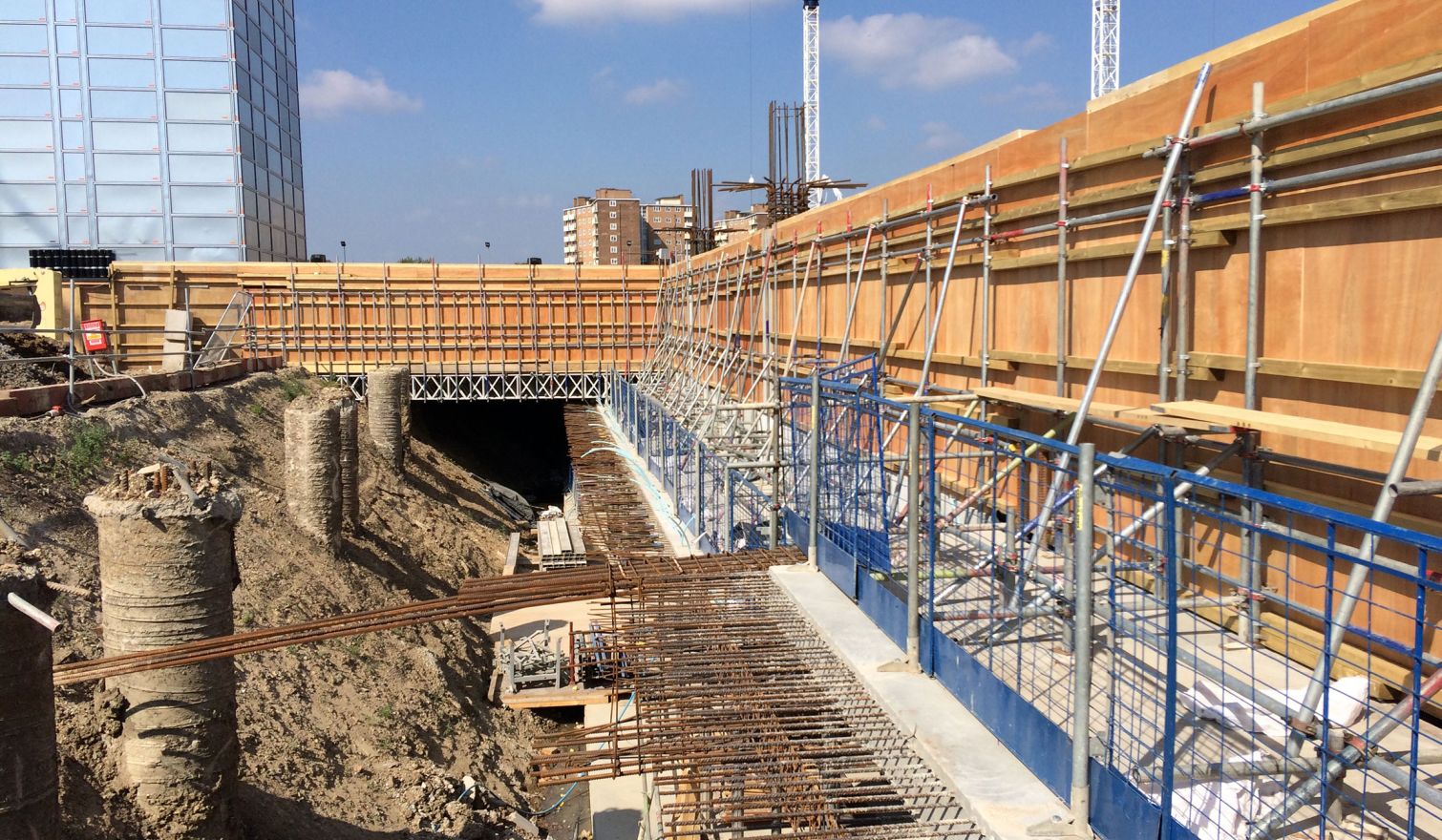 Stringent 'green guide' rules and building regulations coupled with an extremely tight timeline meant collaboration between Mace, GKR and 48.3 was key to delivering on an unmovable deadline.
Each staircase had to provide access at every level of the stadium whilst maintaining a consistent going and rise in each step, this proved difficult as floor level heights varied and were not in consistent set increments which matched that of the staircase landing heights. One system stair integrated a tube and fitting solution which was required to perfectly marry up with the profile of the existing terrace stand. Full public headroom and width clearances had to be maintained.

Public access walkway scaffolds were designed to smoothly transition from slab to slab – these were often sloped, and gradients were checked for stadium compliance. Not only were the walkways designed for fan access loadings (5kN/m2) but for various plant (MEWPs, pallet trucks etc…) to move across on normal site days.

Hoarding support frames were utilised extensively throughout the site. Their design load was dependent on volume and directional flow of the fans which was determined through access and egress movement simulations. Often the hoarding would be required over large voids within the slab or on uneven terrain with no obvious point of restraint.
Each staircase included a tube and fitting infill scaffold which bridged the gap between the stadium and the stair. Within each infill platform, a shallow ramp was included which allowed us to make up the vertical distance between the staircase landing and the stadium slab. The infill also allowed us to easily bridge the turnstile entrances at ground level and maintain full use. Spigot pins within the staircase were welded in place, smooth public compliant guardrails were fixed and anti-slip GRP finished the staircase surface.
Site topography surveys allowed us at a very early stage to highlight to the main contractor where ground had to be made up or removed in order for the gradient of the ramp to be compliant.

A series of hoarding solutions where designed to suit the varying conditions on site. Some utilised flat beams to bridge voids whilst others relied on kentledge to provide stability.

The hoarding was initially designed to consider both crowd load and wind load acting simultaneously on the face of the hoarding. By considering the blockage effect of the crowd we were able to disregard wind up to the height of your average person. This made considerable savings in material, build time and money for the client – a great example of value engineering.