India Buildings is a Grade II* listed building located in the centre of Liverpool. Originally built from 1924-1932, with restorations taking place in 1941 following significant bombing damage, it was acquired by Legal & General in 2017 with the intention of creating a new 'supercentre' for HMRC and 3,500 of its staff.
The £38m refurbishment and category A fit out was awarded to principle contractor, Styles & Wood, and consisted of a 72-week programme of works, which is set to be completed by September 2019. The refurbishment and fit out involves the provision of office space, remedial work and major external repairs to ensure it is safe and viable as a fully working building.

48.3 were brought on board by scaffolding contractor, Crossway Scaffolding, to design and manage the complex scaffolding requirements across the entirety of the project, which was initiated with a 180-item scaffold pricing schedule.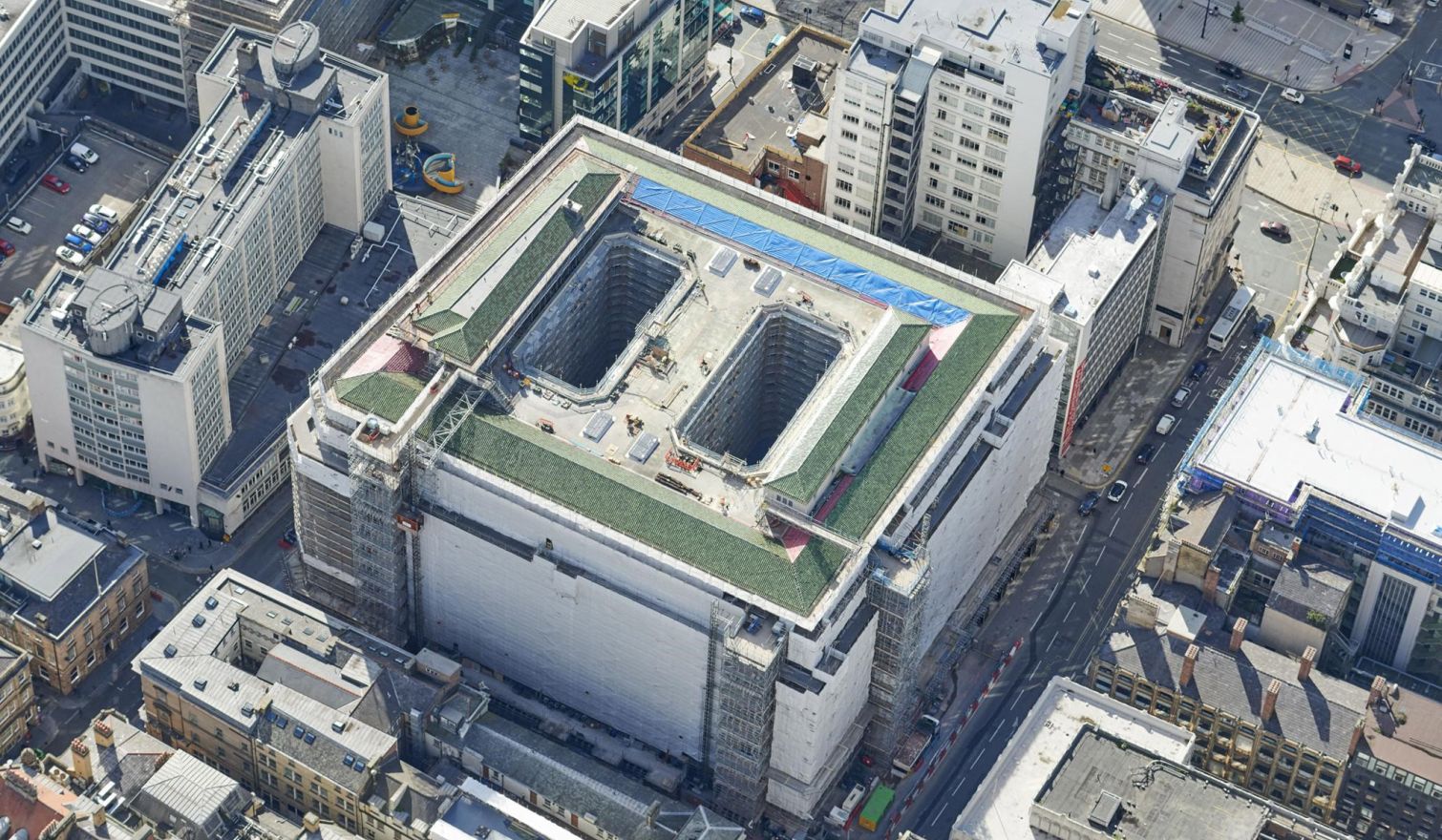 The main scaffolding structures that we focused on were external, independent access scaffolds across the full perimeter with gantries, loading bays and multiple full height hoist runoffs. There was also the requirement for access scaffolds to two internal lightwells, over 30m in height, which 48.3 designed using the Metrix system.
Due to the unique construction and limitations of the listed building, there were some significant challenges to overcome. Live load limits on the floor (56lbs per sq.ft / 2.68kN per m2) meant that the majority of internal scaffold structures required spreader beams to transfer the loads to reinforced concreate beams, between steel filler joists. The client required a 5.0kN/m2 loading bay and temporary roof over the main lightwells, which both needed to be supported off the roof. However, the allowable live load on the roof was limited to 0.75kN/m2. This loading bay – spanning 15m - was expertly designed by our 48.3 engineers and it ran adjacent to a 29m long mono pitch temporary roof. Both structures were based off a 350mm-wide parapet wall at the top of a 32m high octagon-shape lightwell.
The 48.3 team faced further complexities with the design and planning of a 40m high, sheeted access scaffold placed in narrow lightwells which needed to still allow access into the building, whilst avoiding services, backpropping and bridging Luxcrete pavement lights. Stair access was also required up and over a cornice, which projected 1.5m, 32m above ground level. Unpredictable, detrimental factors which arose during the development of the project - such as high wind loads and walls containing asbestos - also became serious considerations for the team.
This high-profile project required our team to leverage all of our experience, knowledge and expertise to address and overcome the complex challenges that arose. Collaboration between our engineers and knowledge-sharing between our experts meant that the most specific of requirements could be fulfilled. One of our fundamental values – Achieve More, Build Together – was definitely a key factor in the success of this project.
At 48.3, we pride ourselves on being able to establish strong relationships and effective communication channels across the multiple parties involved in a project like India Buildings. Successfully liaising with the scaffolding contractor, principle contractor, subcontractors (for demolition works, hoist installation, refurbishment etc.) and the Temporary Works Design Checker (TWDC) ensured that the temporary works solutions we designed exceeded the expectations of the brief, whilst being safe and of the highest quality.