The £300m new build Radisson 5-star hotel is located opposite the iconic Leicester Square Odeon in central London within one of the busiest London tourist hotspots and is due to open for business in 2020. With 350 rooms, 15 suites and a ballroom for 1000 guests time has been critical to ensure that the project has kept to schedule. Designed to have 9 floors above ground and 6 below meant that the complex recesses and curves of the buildings architectural structure provided challenges when designing scaffold solutions.
48.3 was appointed to provide scaffold design solutions for all exterior & internal works.
The main independent access scaffold was designed to avoid phasing & to allow for all external works to be completed from one single scaffold configuration. The external scaffold consisted of five passenger/ goods hoists, gantry, various points of access and cantilever loading bays. For internal & finishing works 48.3 designed all internal birdcages, loading platforms and edge protection for the 6 floors high escalator lift shafts & risers, the hotel guest swimming pool and ballroom.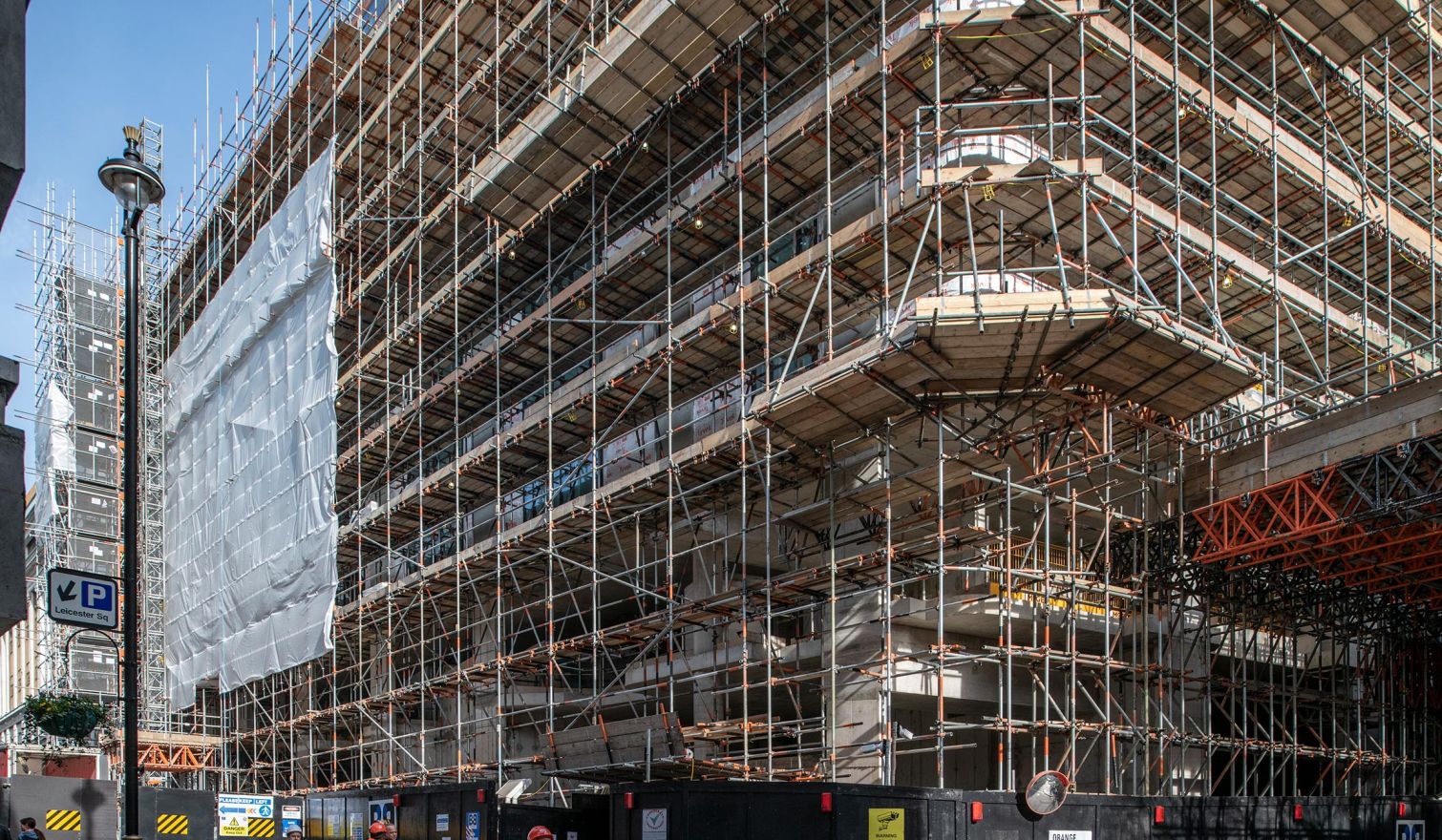 Due to space restrictions on site, planning of the logistics was crucial before commencing with any part of the design. Due to internal and ground works being carried out whilst a variety of façade works commenced meant that the design needed to be multi functional for the stonework and cladding system installation.
Another challenge 48.3 faced on the project was the complex structure of the building. Scaffold had to be designed to follow all architectural recesses and the curved shape of the building. This involved several cantilever scaffold platform extensions for level 7 to 9 and complex scaffold returns.
Securing scaffold to the existing structure was limited to certain locations of façade at alternate floor slabs to maximise stonework installation while scaffold was still in place.
Hoist run-offs had to allow for heavy 2.6 high & 4.5m long glazing stillages to be wheeled into the building with very limited 3m high floor levels. Loading on the scaffold had to allow for 500kg stonework being moved with manually operated pallet trucks & Niko lifting equipment installed at several levels along the perimeter.
Heavy duty loading gantry was required at least on one elevation for material storage. The tight location and site adjacent roads needed to be kept clear for cars & pedestrians with only temporary road closures.
Lifting and loading route solutions were developed along with Blue Sky Building so materials could easily be transported. Scaffold was designed as 5+2 board configuration with inside edge protection leaving space for stonework & windows installation. Recess areas had to be designed as double width scaffold in various locations as well as the whole of the (east elevation) Withcomb Street. Following consultation with the façade contractor, scaffold was tied at designated locations up to level 7 with triple & double ties.
Location and configuration of goods & passenger Hoists on (north Elevation) Panton Street were closely discussed between Blue Sky Building, Taylor's Hoist and 48.3 at tender & further stages of works. The design made an allowance for lorry access as well as for the use of the mobile crane being used in close proximity. Hoist 2 was designed with close centres 305mm steel ladder beams allowing for 2.6 tonne glazing stillages being transported across the building. 48.3 completed a swept path analysis for the largest items to be brought up in the hoist making sure glazing stillages can turn within the plan area of the hoist run-off. Hoist 3 was designed with double transoms at 200mm allowing for 1000kg pallets of stone & windows being transported.
To counter the restrictive access, a heavy-duty gantry was erected on (south Elevation) Orange Street to provide material storage. Structure involved over 200 gantry & bridging beams to allow for local excavations, and clear points of access.
The involvement of 48.3 was well received by the main contractor both with the design as well as once the project was underway. Most crucial was the early design involvement of 48.3 in design. "We started looking at the scaffolding eight months in advance of appointing a scaffolding contractor. This approach allowed us to develop a clear scope of works to suit the contract and it meant that when we went to tender, the contractors were quoting on a level playing field" said Lawrence Baptist, Construction Director, Blue Sky Building. 'Proving that designing the scaffold elements early enough can give significant commercial gain to the project and ensure that design is finalised before the project starts, rather than the other way around. From a health and safety perspective, the Orange Street gantry meant that materials could be unloaded in the most safe and efficient way, which gave H&S benefits and did not require massive infringements in such a tight area'.