Temporary roof-encapsulation and eave-level access scaffold to facilitate a major roof repair programme. The ground based supporting scaffold was erected entirely from Layher Allround system with loading bays, and bridging sections over adjoining buildings.
One corner of the building recessed significantly which meant the temporary roof was detached from the building line - edge protection was suspended from the roof trusses. This recess also coincided with the location of adjoining buildings resulting in a complex bridging system being installed to support one entire corner of the scaffold.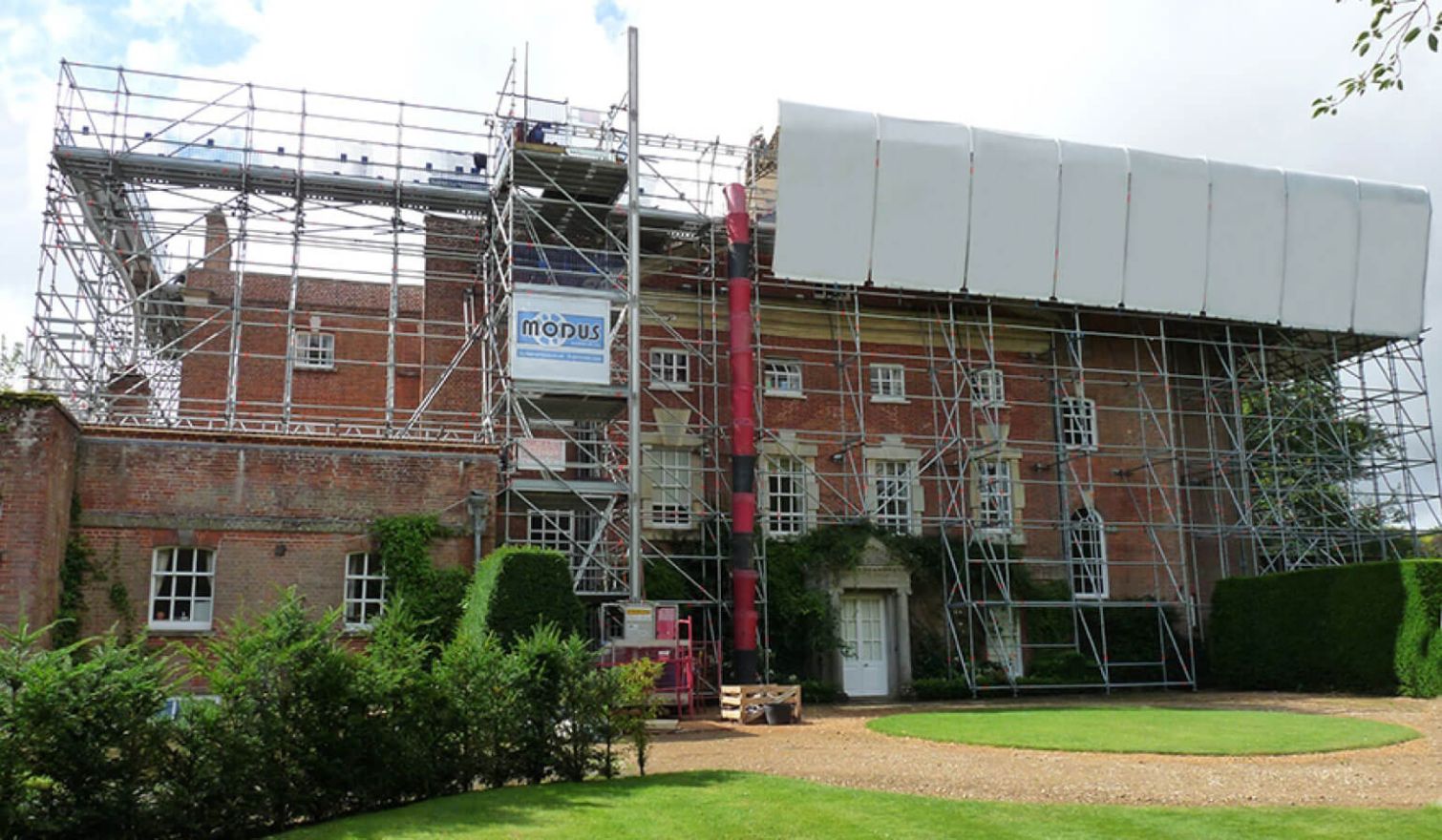 The roof was erected in two phases using Layher Keder roof system and rolling support components. One end was erected and completed then roof works began; as the repair works on one end of the existing roof neared completion the supporting scaffold for the opposite end was completed. Once the first phase of roof repairs was complete, the temporary roof was rolled from one end to the other. The phase one supporting scaffold was then dismantled. This innovative erection sequence was employed by Modus to provide cost and time savings for their client.
One significant innovation, developed in partnership between Ben Beaumont at 48.3 and Terry Sennett of Modus Access, was the gable sheeting design for the rolling roof. Having never previously been installed on a rolling roof by Layher UK, the standard Layher Keder gable sheeting method did not provide the flexibility required to accommodate the movement of the roof truss on its castor supports after the rolling sequence took place. It also did not allow for the protrusion of the tri-beam support component past the plane of the gable sheet when erected as recommended by Layher. A completely new and innovative sheeting arrangement was developed to successfully solve these problems and maintain the full weather protection required by the main contractor.
The main details of the new innovative gable sheet were the central seal from the gable apex down, arranged to accommodate the movement of the roof and still provide a weather tight seal, and the side flaps to allow the tri-beam to be installed as recommended but again, still provide a weather tight seal. A combination of eyelets, strategic keder profile, custom overlapping velcro flaps and clever trigonometry made the solution a success.